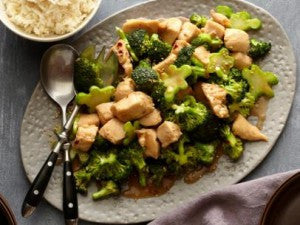 Ingredients1 pound chicken breast (about 2 breasts), cubed3 scallions, whites only, thinly sliced on an angle2 cloves garlic, minced1 -inch piece peeled fresh ginger, minced (or honey ginger White balsamic)1 tablespoon soy sauce2 tablespoons sugar1 tablespoon, plus 1 teaspoon cornstarch1 1/4 teaspoons salt1 tablespoon dry sherry1 tablespoon dark sesame oilAbout 1/3 cup water3 tablespoons Garlic EVOO5 to 6 cups broccoli, trimmed sliced stalks and medium florets (keep the 2 cuts separate)3/4 to 1 teaspoon red chili flakes, optional1 tablespoon hoisin sauceGarnish: toasted sesame seeds, optional DirectionsIn a medium bowl, toss the chicken with the scallion whites, about half the garlic...
---
• Recipes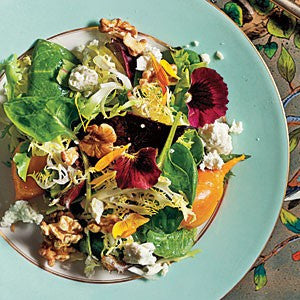 Ingredients:6 medium beets (red and golden), about 1 1/2 pounds1 cup water8 cups mixed baby salad greens1 cup loosely packed fresh flat-leaf parsley leaves1 tablespoon white balsamic vinegar (Or Cranberry-Pear White Balsamic)1/4 teaspoon kosher salt1/4 teaspoon black pepper2 tablespoons extra-virgin olive oil (UP Extra Virgin Olive Oil)1/2 cup (2 ounces) crumbled goat cheese1/4 cup coarsely chopped walnuts, toasted Preparation 1. Preheat oven to 375°. 2. Leave root and 1-inch stem on beets; scrub with a brush. Place beets and 1 cup water in a 13 x 9-inch glass or ceramic baking dish; cover tightly with foil. Bake at 375° for...
---
• Recipes
Recipe makes 4 appetizer portions or 2 entreé portions 1/4 pound wild arugula 1/2 bunch of lacinato kale, stems removed and torn into small pieces 1 shallot, thinly sliced 3/4 cups homemade breadcrumbs (recipe follows) 1/4 cup crumbled greek feta
---
• Recipes
Loaf of sourdough or a country style bread olive oil sea salt freshly cracked black pepper Preheat the oven to 350 degrees. Line a baking sheet with foil and set aside. Remove all the crust from the loaf. Cut it into cubes and pulse in a food processor until the crumbs reach the texture you want. Toss with some olive oil to lightly coat and pour onto the baking sheet, creating a thin, even layer of crumbs. Bake until golden brown, about 15 minutes. Remove from the oven and season with sea salt and pepper. Store in an airtight container...
---
• Recipes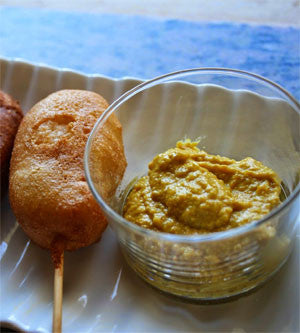 The primary ingredient in Mustard is Vinegar! And do you know what that means? The vinegar used to make Mustard is hugely important in terms of overall flavor and quality of mustard. Ingredients 1 cup ground yellow mustard seed 2/3 cup vinegar (Sherry, tangerine balsamic, maple balsamic, Champagne, serrano honey or jalapeno (for heat), oregano, white wine, red wine, peach, honey ginger, traditional, tarragon… and on, and on. 1/3 cup honey (omit this if you are using a sweeter vinegar such as tangerine balsamic) 1 teaspoon sea salt, truffle salt, pink mineral salt, or…??? Combine the ingredients in a small...